[ad_1]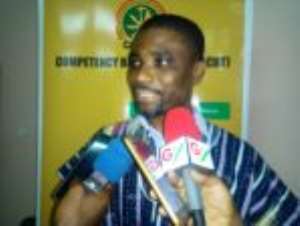 The Team leader for Council for Technical and Vocational Education and Training (COTVET), Mr Collins Armah has stated that Ghana Beyond Aid agenda can be achieved through Technical and Vocational Education and Training (TVET).
According to him, the Ghana TVET Voucher Project is a good initiative to enhance skilled labours to transform the country, hence the government should support TVET.
Speaking at the launch of Ghana TVET Voucher Project in the Western Region, Mr Armah said the project is an informal free education in enhancing skilled labour training.
He said, since western region an oil refinery sector, it will create better opportunity for people who have major deep-sea pipe welding skills and also to boost the President 1D1F initiative to provide jobs for the youth especially.
"We call people or expert outside Ghana to come and work for us whiles we can give training for our own people to be able to the works we need to get earn meat to improve our living," Mr Armah said.
He continued, "The project is very important for everyone to take advantage of it and to become expertise in whatever they do. Which may include plumbing, camera repairing, welding, auto mechanic and engineering, consumer electronics, Automotive repair, Building construction, Garment/Tailoring/dressmaking, furniture making, electrical installation, Block laying and tiling and Catering and hospitality".
Mr Armah revealed that government has supported GTVP with Ghc2billion to implement the policy to help Ghanaians.
"The project also focuses on people who have been in school before or patrons from JHS, SHS, and all skilled personnel's to help them undergo training for 6months then we will be able to bring you to the school to equip you more in theory aspect. About 5000 people benefited in March which 60 percent are females in closing the youth," he intimated.
Meanwhile, the Western Regional Minister, Hon. Kwabena Okyere Darko also disclosed some significant intervention of the Government of Ghana in the skills sector.
"We all know how critical skills development of our youth is to our nation's industrial development. It provides the building blocks for the meaningful sustenance of any industrial revolution by empowering lower and middle level manpower to propel productivity and quality in the productive sectors of a country. It also provides the know-how to inject efficient production technologies for increased productivity and growth while generating productive job opportunities for the youth," he lamented.
According to Hon. Kwabena Okyere Darko, the president prioritises in terms of skills development through critical projects like the Ghana TVET Voucher Project [GTVP] which is funded by the German-Ghanaian Financial Cooperation through KfW Development Bank and implemented by the Council for Technical and Vocational Education and Training (COTVET) with consultancy services provided by PLANCO, an international consulting firm.
"The project is also aimed at increasing access of master craft persons, workers and their apprentices to training vouchers for further training in Technical and Vocational Training leading to skills development and productivity improvement.
"Specifically, GTVP has since September 2017 worked to achieve improved access of approximately 5,000 master craft persons their works and apprentices' to technical and vocational education. Strengthened capacity of TVET stakeholders such as training institutes, trade associations and COTVET to effectively play their mandated roles in TVET. Developed a consistent incentive system for vocational training providers taking into consideration the labour market relevance of such training.
"The GTVP has been implemented in 4 regions, namely, Greater Accra, Ashanti, Volta and Northern Regions since 2017.
"The target groups are master craft persons, apprentices and workers from the following trade areas-Cosmetology, Consumer electronics, Automotive repair, Welding and Garment Making.
"After a successful pilot phase the Project has been extended to 3 additional regions, namely Western, Central and Eastern Regions.
" I must hasten to add that these regions are based on the old Ghana Map and not the new one including additional 5 trade areas have been added to existing 5 trade areas being supported by the Project. This has increased the number of trade areas being supported by the Project to 10," he revealed.
Hon. Kwabena Okyere Darko added that this initiative by the Government of Ghana further epitomises its avowed commitment to making education, especially technical and vocational attractive and accessible to all Ghanaians.
"We strongly believe that, technical and vocational education is going to be the driving force of our industrial and economic development. In fact, it is a hard fact that technical and vocational education has been the bedrock of development of advanced countries like Germany, USA, Britain, China and South Korea, just to mention a few," he said.
According to him, the NPP administration has outlined a set of strategies to provide a sound footing for skills development and job creation.
This, he said, include the establishment of a database for trained apprentices and artisans, setting up of a national apprentice recruitment agency, setting up a portal to assist artisans in marketing their products and supporting the institutionalisation of business incubation and industrial apprenticeship systems to ensure innovative ideas are transformed into businesses while new graduates acquire the basic technical competencies employers require.
"Where the Ministry of Education has also initiated plans to secure additional funding from the World Bank to implement among others, the Ghana National Skills Development Fund which will provide funding to over 1,000 businesses for the purposes of skills upgrading, technology development and job creation. The proposed project which will be managed by COTVET is expected to commence by the end of 2019," he emphasised.
He continued, "Government will continue to support COTVET to enhance its capacity to regulate and coordinate the delivery of TVET in Ghana which will specially focus in the area of supporting COTVET to operationalise the National TVET Qualifications Framework, and the adoption of Competency Based Training and Assessment methodologies in all TVET institutions and the rebranding of TVET to make it attractive to the youth."
Hon. Kwabena Okyere Darko posited that the GTVP wouldn't have been possible without the support of the German government.
He commends COTVET for its unique role in the design and management of the project.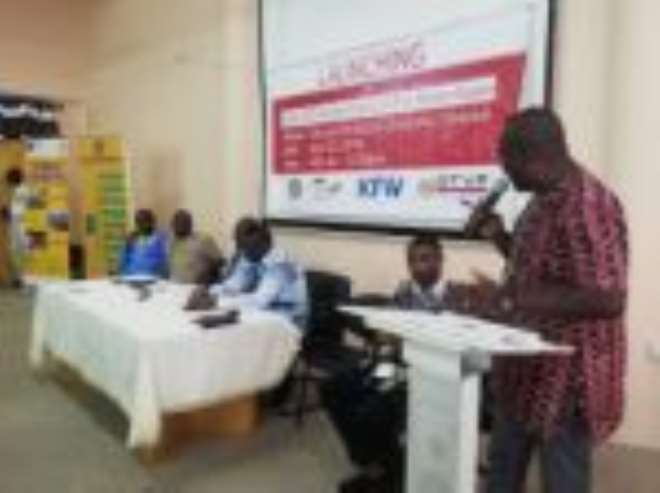 [ad_2]
Source link