[ad_1]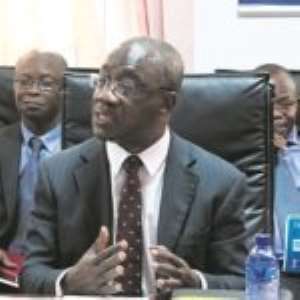 The declaration of war on corruption by the Ghana Revenue Authority (GRA) at the Tema Port has claimed its first victims.
Signals picked up by The Chronicle indicate that the Kofi Nti administration has interdicted four senior officers of the Customs Division of the GRA for their alleged roles in the under-declaration of goods imported into the country this year, which led to the state losing GH¢786,162.19.
The affected Senior Revenue Officers are; Solomon Abbam Quaye, Albert Olando Mensah, Benjamin Ala-Adjetey, and Assistant Revenue Officer Isaac Samuel Mensah.
The four are alleged to have given wrong information concerning some imported items, leading to the loss of the above quoted money to the state.
The letter written to Solomon Abbam Quaye, interdicting him, signed by Deputy Commissioner, Human Resource, Augustine Adjei Sefah, and dispatched to the recipient on September 5, 2018, reads:
"Reports reaching the Commissioner (Customs Division) indicates that on 13th July 2018, you examined 1×40 container numbered MEDU 7591 covered by Declaration Number 42018301026. Your record of examination indicated a list of used household goods and assorted personal effects as declared by the consignee.
"However, re-examination of the consignment revealed an assortment of supermarket goods resulting in a short collection of GH¢89,582.21.
"That of Benjamin Ala-Adjetey also indicate that, on July 13, 2018, he examined 3×20 containers numbered MEDU 6295982, MSKU 3197500 and MSKU 5680 covered by Declaration Numbers 42018300359 and 42018300261."
The interdiction letter further stated: "Your record of examination indicated a list of assorted items as declared. However, re-examination revealed a quantity of 1,440×12 bottles x1litre Lucozade and 750 cartons of 448×210 grams of tomato paste per the two containers.
Total short collection detected was GH¢74,642.76"
In the case of Albert Olando Mensah, the letter stated: "On the 13th July 2018, you examined and released twelve (12) containers vide import declaration numbers 42018300947, 42018300308 and 42018301217. Your record of examination indicated "No infraction" and found containers same as declared.
"Re-examination of the containers revealed that the containers were stacked with Pilchards in tomato sauce. As a result, the short collections detected were GH¢564,068.00. These consignments were ambiguously described as household goods."
The letter to Isaac Samuel Mensah indicated that "on 13th July 2018, he examined 1×20 container numbered MEDU 6249333 covered by declaration number 42018300816."
It went on that, "the record of examination indicated a list of household goods.
"However, re-examined revealed assorted supermarket goods including items subject to Tax Stamp resulting in short collection of GH¢57,869.22.
"All the four officers, including Solomon Abbam Quaye, who doubles as an executive member of the Customs Senior Staff Association, have been asked to hand over their uniforms, accessories, identity cards, and all the authority's properties in their possession to the Sector Commander, before proceeding on the interdictions.
The Chronicle also gathered that First Idea Agency, a freight forwarding company, which was responsible for the clearance of the items, had been invited to assist investigators.

[ad_2]
Source link