[ad_1]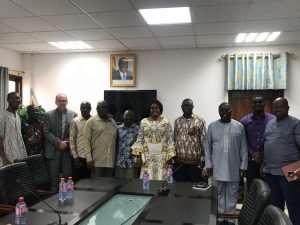 Government has hinted that it may be forced to revoke the licenses of quarry operators who have failed to pay royalties to the state.
It says it will also punish quarry companies who refuse to renew their licences, following the expiration of those licenses or permits.
Speaking to the media, the Lands and Natural Resources Minister, Kwaku Asoma-Cheremeh, said such companies should also take immediate steps to  pay off their indebtedness with the utility companies especially  Ghana Water and the Electricity Company of Ghana, ECG.
He made the comment when he met the Commercial Quarry Operators Association of Ghana led by its Chairman, Dr. Ebenezer Mireku in Accra on Friday January 4, 2019.
Quarry Operations in Ghana dates back to over hundreds years, and many infrastructure projects in Ghana have benefited from the activities of this enterprise.
The Chairman of the Association reiterated the need for government to intensify its support in order to help protect legitimate quarry sites in the country.
There are about 146 registered quarry concessions in the country with major players located in the Greater Accra, Central, Western and Ashanti Regions.
Their major challenge has to do with encroachment on their concessions.
—citinewsroom

[ad_2]
Source link