[ad_1]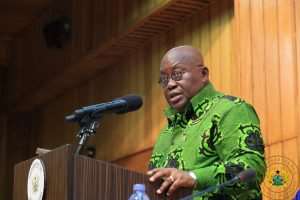 President Akufo-Addo has issued a full response to the joint petition presented by Citi FM and Occupy Ghana demanding the operationalization of all newly built but abandoned healthcare facilities.
The response outlines the government's plans to operationalize newly-built health facilities in the country as well as the strategy to improve healthcare.
According to the statement signed by the Executive Secretary, the Ministry of Health is undertaking ten projects that will see the construction of some 21 hospitals across the country.
Out of the ten projects, the Ministry of Health has oversight over five, while the other five will be implemented by the Bank of Ghana a, Ministries of Roads, Interior, and Defence.
The statement also addressed the delays in the implementation and operationalization of newly built hospital facilities.
On the maternity and Children's Block at Komfo Anokye Teaching Hospital, the Health Ministry said the project was awarded in 1974 and had suffered non-completion due to funding constraints.
"In the past, the project was being funded through the GOG budget. Unfortunately, with a dwindling GOG budget, the MOH capital envelope/budget ceiling has been equally affected. The amount of money required to complete the project has always been more than the budget could normally absorb. Hence the MOH resorted to the idea of obtaining funds in installments over a period of time as opposed to getting the total amount from one specific budget year.
"From 2012 to date, the Ministry of Health consistently made allocations in the budget under GOG, ABFA (oil fund) and the National Health Insurance but all to no avail. In some instances, the allocations were not fully released to the MOH or the funds had to be retired due to long administrative process that delayed access to the approved budget," the Health Ministry said.
On the construction and equipping of regional and district hospitals, the Ministry listed the delays in Ministry of Finance's (MOF's) issuing of promissory notes in the required electronic format as well as delays in refunding the amount on locally purchased goods (VAT) to the contractor as significant reasons delaying these projects.
The two petitioners were also pushing for a comprehensive Emergency Response System (ERS) in Ghana, contending that the matters at hand have "reached a crisis point."
"The matters now require drastic measures, one of which is our request herein that the President takes urgent steps to operationalize the facilities and institute the ERS throughout Ghana."
They urged the President to "put in place and publish a clear road-map with timelines for addressing the matters."
It is the conviction of the petitioners that the facilities when operationalized, the facilities will "reduce pressure on the existing tertiary and regional referral facilities and add about a 4000-bed capacity to the existing nationwide figure of about 20,000 beds."
The petition, which was forwarded to the presidency on July 25th, 2018.

[ad_2]
Source link