[ad_1]
The partly owned Ghanaian company with Egyptian financiers, the Gold Coast Refinery, which is a subsidiary of Euroget Group in Egypt has offered a carried interest shareholding of 15percent to the Government of Ghana, the Minister for Lands and Natural Resources, Kwaku Asomah-Cheremeh has said.
The sector minister noted that the process for this major decision is in advance stage of final consideration.
He said this at the certification of Gold Coast Refinery Limited (GCRL) by the Ghana Standard Authority (GSA) to hallmark gold from Ghana on Tuesday, November 27, 2018 at the Kempinski Gold Coast City Hotel, Accra.
The hallmarking and certification of the Refinery will add value to its gold and traceable to those that will be exported to other parts of the world, as the inscription of the traditional Adinkra symbol would improve identification.
The Hon. Kwaku Asomah-Cheremeh indicated that the export of hallmarked gold will help correct discrepancies seen in the exported values of gold.
He added that with the hallmarked gold, the purity (fineness), weight and its value cannot be disputed, indicating that, these are standard inscriptions on the gold bar.
The challenge, according to the minister is that, while they report one set of values here in Ghana, other countries were said to be recording a different set of values for the same gold however, with the hallmarked gold, those discrepancies will be history.
He stressed that government would also advice and encourage investors in other minerals such as bauxite and manganese to also add value to what they produced in a manner that will increase the benefits Ghanaians derive from our natural resources.
Speaking on behalf of President Nana Addo, the Minister of Trade and Industry, Alan Kojo Kyeremateng indicated that since time immemorial, Ghana had been exporting raw gold without adding value.
He posited that value addition to Gold produced in the country would boost the economy and create job opportunities as value addition enterprises such as goldsmiths, jewelry manufacturers and other legal tender would be linked.
The Director General of Ghana Standards Authority (GSA), Prof. Alex Dodoo said section 3(2) (d) of NRCD 173 of 1973 requires the GSA to maintain the necessary machinery to ensure that goods prepared and manufactured for export are distinctively marked for export, and to provide for the issuance of certificate to the effect that goods comply with the known requirements of standards in the country to which they are about to be consigned before the export of the goods is permitted.
He noted that this will ensure that gold purified in Ghana is traceable and of known provenance which includes five components such as GSA mark of conformity, the fineness number (corresponding to given caratage of the purified gold), Assaying and Hallmarking Centre's Mark, Jeweller's Identification Mark for jowellery and year of marking denoted by a code letter and decided by the GSA.
According to him, GSA has instituted a Gold Hallmarking Scheme which is aligned with international criteria on hallmarking (Vienna Convention, 1972 also known as the Hallmarking Convention).
The Managing Director of Gold Coast Refinery Limited, Mr. Sampson Nortey opined that the Refinery's core business involves mainly assaying using the internationally accepted method and standards to refine precious metals including gold, silver, platinum and palladium up to the highest purity or fineness level of 99.999.
He said the company has installed operational capacity of 180 metric tonnes per annum in a single shift production, and up to 340 metric tonnes per annum in a double shift.
Mr. Nortey added that they have well-equipped laboratory to perform the internationally acceptable assay, and London Bullion Market Association (LBMA) approved machinery for refined polished gold bars.
According to him, their products include refined gold and silver bars of 1 kilogram bar, 500 grams, 250 grams and 100 grams of gold and silver.
He intimated that they are launching into full commercial operation stage having finished with the preliminary stage which involves testing of all machinery and equipment, operationalizing the processes and procedures as well as processing the relevant required certifications for business.
Currently, the MD added that the company is pursuing various international certifications including International Organisation for Standardisation (ISO) 9001: 2015 for quality management systems, ISO 45001:2018 for occupational health, safety management systems and ISO 17025 for laboratory accreditation.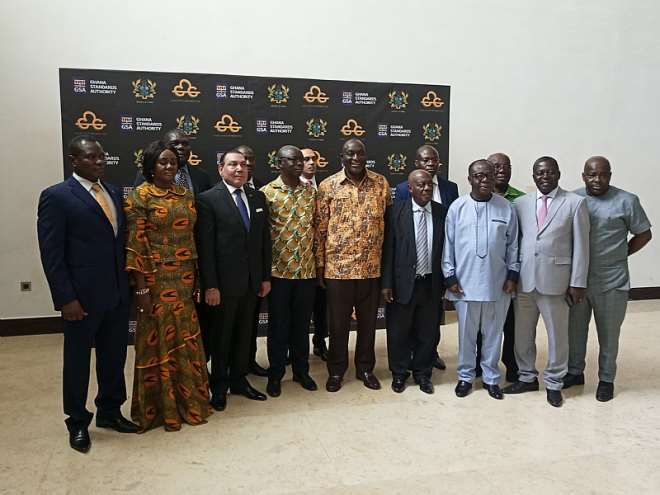 [ad_2]
Source link