[ad_1]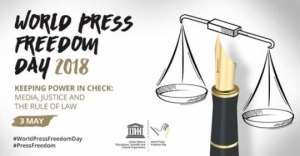 Panelists at a roundtable on the UNESCO World Press Freedom Day have urged the Ghana Journalists Association (GJA) and the National Media Commission (NMC) to address copyrights issues on the media landscape.
They maintained that some electronic media houses, especially radio and television stations, had been using contents of newspapers for their shows without recourse to the originator.
They expressed concern that because some radio and television stations in their newspaper review segment ended up reading the entire contents of news items, it was reducing the patronage of newspapers, thereby negatively affecting their market.
The panellists include Ms Ajoa Yeboah-Afari, the Chairperson, Editors' Forum, Ghana; Mr Gabriel Baglo, General Secretary, Federation of African Journalists; Mr Zakaria Tanko, Journalism Lecturer, Barrister and Copyright Specialist; Mr Korieh Duodu, Barrister and Media Specialist; and Mr Ebo Hawkson, Reporter, Daily Graphic.
The pre-event was on the theme 'Authors/Journalists Rights in Africa,' was attended by the Ghana Journalists Association (GJA) Executives and senior editors.
The panel discussion sought to develop an African perspective to the issue of copyright in the media.
The objective of the discussion was to put together a practical guide for African authors and journalists on what they needed to know about authors' rights and copyright.
Ms Yeboah-Afari in her submission urged editors and journalists to avoid copyrights pitfalls in their line of duty by giving credit for other people's intellectual properties they used.
She said the media profession in Ghana was in dire need of guidance on copyrights; stating that 'I would say that most trained journalists here do know about copyright, but it's not an in-depth knowledge. In fact, we're quite careless about such matters.'
Mr Baglo said FAJ would strengthen work in African journalism around ethics and authors' rights including establishing, where appropriate, regional actions to highlight the importance of authors' rights protection.
He said the organisation with the support of the Ethical Journalism Network (EJN) would create more awareness about copyright and author's right.
Mr Duodu lauded Ghana for having an excellent framework on copyrights.
He said Ghana's Copyright Act 2005, was compatible with international copyright treaties such as the Berne Convention for the Protection of Literary and Artistic Works (1886), the World Intellectual Property Organisation (WIPO) and World Trade Organisation's (WTO's) Agreement on Trade-Related Aspects of Intellectual Property Rights (TRIPs) 1994.
He also suggested that press for effective representation by collection societies and unions to enforce journalists' rights and name and shame copyright abusers.
'The most effective weapon of a journalist is the pen; use it to protect your work!' Mr Duodu said.
Mr Tanko said it was not mandatory to register your intellectual property; declaring that "once it is your intellectual property it matters not whether you have register it or not".
Mr Abdulwaheed Odusile, President of FAJ, in his submission, urged radio stations to desist from reviewing the content of newspapers, except with the permission of the newspapers' owners.
Mr Affail Monney, GJA President, in his response to the concerns raised about copyrights, said that the Association would take up the issue very seriously.
He said copyright was one area that the GJA had not focused on; adding that they would now make it a centre of attention.
He said radio stations review newspapers not with murderous intention; stating that some newspapers with poor circulation's approach radio station to review their contents.
Nana Kwesi Gyan-Appenteng, the Chairman of the NMC, said all those with literary written works must be given some compensation when used.
Nana Gyan-Appenteng, who is also the President of the Ghana Writers Association, said over the past five years compensations had been paid by the Association to musicians and writers; and that the GJA was supposed to collect it on behalf of journalists.
GNA
By Iddi Yire, GNA

[ad_2]
Source link