[ad_1]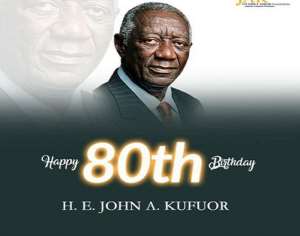 Ghanaians have described former President John Agyekum Kufour as a deep thinker and one who possesses a fabulous memory.
According to a section of Ghanaians who spoke to Anokye Elvis of thepressradio.com in Kumasi the Ashanti Regional capital on Saturday, December 8, 2018 as Mr. Kufuor turns 8o today, his 8 years term in office brought transformation and prosperity in Ghana.
They argued that in spite of Mr. Kufour being regarded as a centre-right politician, he introduced one of the most pro-poor policies that Ghana had ever seen.
They mentioned the National Health Insurance Scheme, school feeding programme and the Metro Mass Transit (Kufour Bus) as key initiatives that reflected the president's commitment to prioritizing the needs of the less privileged in society.
"As he turns 80 and looking at his social interventions that reduced the burden on Ghanaians in his 8 years in office I pray that God will renew his strength for him to impact his visions and deep thinking on the recent Leaders in the country" one woman said.
Former President John Agyekum Kufour is celebrating his 80 birthday today, December 8, 2018.
Mr Kufuor was born on December 8, 1938 in Dabaah near Kumasi in the Ashanti region. He was the seventh child of ten children of Nana Kwadwo Agyekum and Nana Ama Dapaah.
Mr Kufuor is married to Theresa Kufuor and they are blessed with five children, Saah Kufuor, Owusu Afriyie Kufuor, Nana Ama Gyamfi, Agyekum Kufuor and J. Addo Kufuor.
He was the second president of the fourth republic of Ghana and served two four-year terms. Mr Kufuor exited office in 2009.
Acknowledging the work done by the erstwhile NPP government under the leadership of former President John Agyekum Kufuor, one man called on the current government and the subsequent once to come to imitate him to build a better Ghana.
Source: thepressradio.com/ Anokye Elvis

[ad_2]
Source link