[ad_1]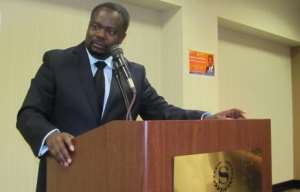 Kofi Akpaloo
The leader of the Liberal Party of Ghana, Kofi Akpaloo, has revealed that not a single police officer in Ghana does not belong to one political party and insists many officers do their job based on political affiliations.
He argued that if they do not belong to political parties how come they are allowed to vote which is part of their civic responsibility describing it as disgusting and unfortunate.
However, Kofi Akpaloo condemned the treatment meted out to protesting law students by officers of the Ghana Police Service on Monday, October 7, 2019.
According to him, some police officers are politically motivated in ensuring they take decisions to favor their personal interests.
"The police must be law-abiding in ensuring they use rules and regulations in handling the protestors. The handling of such a situation must always be done in a manner that allows a balanced achievement of the objectives," Kofi Akpaloo told Lawyer Ohene Djan on Pae Mu Ka on Accra based Kingdom FM 107.7.
Mr. Akpaloo said although the police have justified the use of force against the students, the police should have exercised patience in dealing with the demonstrators.
"In the first place why did the police open firearms in the place against the Law students, some of the Police officers are politicians they always want to do things bad to paint the government black."
He reminded the police that their actions ought to win the confidence of the people and not the reverse, saying "Monday's actions rather sow seeds of discontent and encourage negative defiance."
Background
Police fired rubber bullets and showered protesters with water from their cannons.
Law students who protested against the "archaic legal education system in Ghana" have described as lies police account of what transpired during the protest.
The pressure group says footages and photographs they have seen showed several infractions against the rule of law and of humaneness on the part of the security agency.
But the Accra Regional Police Command in a statement issued by its Public Affairs Directorate on October 7, noted that the students numbering about 300, besieged the entrance to the law school, sat down in the middle of the road, "thus prevented the free flow of traffic."
It said the demonstrators later continued to the Attorney General's Department where they prevented a Deputy Minister of Justice, Godfred Dame, from exiting the premises.
According to the statement, the students later re-assembled close to the new court complex in Accra and picketed there for some time.
The two major political parties namely the New Patriotic Party (NPP) and the National Democratic Congress (NDC) have both condemned the alleged Police brutalities.
By : Richard Obeng Bediako / Kingdom 107.7 FM / Kingdomfmonline.com / [email protected] / Ghana / 2019
[ad_2]
Source link