[ad_1]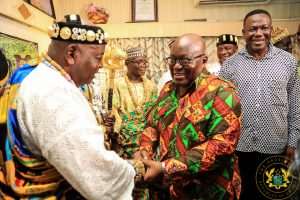 President Nana Akufo-Addo said he has no interest in disenfranchising any Ghanaian as being purported by the opposition NDC in their protest against the criteria for the registration of the National Identification Card.
As it stands now, only passports or birth certificates are the formal proof of citizenship.
Those without the approved primary documents must produce two people, either family members or people who have already registered to vouch for them under oath as genuinely being Ghanaians before they can also be registered.
Even though the minority supported and unanimously approved the amendment of the law, they have made a u-turn and kicking against its implementation.
In protest over the NIA's insistence on following the law by disallowing the use of the Voters' ID, the minority and NDC members have decided to boycott the entire process.
The National Democratic Congress (NDC) Member of Parliament for North Tongu, Samuel Okudzeto Ablakwa, also accused the National Identification Authority (NIA), of deliberately trying to block people from the Volta Region from being issued with the Ghana Cards.
But speaking at Anloga as part of his three days tour in the Volta Region, Nana Addo explained to the chiefs and people the importance of the National Identification Card and discounted claims that his administration intends to disenfranchise Ghanaians.
"I have no interest whatsoever in disenfranchising any Ghanaian, the card is meant for Ghanaians, and that is why Parliament with the full support of both sides of the House; the Minority and the Majority, both supported the new law that is being applied by the NIA."
He said there is no justification for the Minority's disapproval of the law since they were part of the process of approving the new legislation.
"So it is unfortunate that some people [Minority] are approving and disapproving their own work. The work that was done by Parliament was done on a bi-partisan national, consensus basis… There is no justification for people coming to say these particular people [NPP] are doing this to disenfranchising X, Y or Z," President Akufo-Addo said.

[ad_2]
Source link