[ad_1]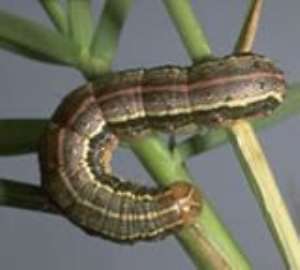 Plant Biotechnologist Professor Kenneth Elvis Danso has suggested that there should be an application of scientific methods to fight the Fall Armyworms that has become a major challenge in the agriculture sector in the country.
According to him, the spraying discovered by the ministry of Agriculture can reduce the Fall Armyworms but genetically modified organism (GMOs) policy implementation as a scientific method can eradicate the disease when appropriate measures is instituted.
He bemoaned that last year for instance majority of farmers' encountered losses due to crops destruction by the fore army worms, situation he described as worried.
He made this suggestion at a workshop organized by Ghana Agriculture and Rural Development Journalists Association at Center for scientific Institution for Research (CSIR) in Accra on Wednesday, 26h April, 2018.
They are called Fall Armyworms because they mainly emerge and destroy crops in Northern and Southern America during the fall season. And when they attack crop fields, they march along the ground like a vast army of worms in search of more food.
From an initial figure of 1,400 hectares of affected farmlands as at May this year, more than 112,000 hectares of farm fields have been invaded by the Fall Armyworm pests. In this second and concluding part of the Hotline Documentary christened, 'RAMPAGING SOLDIERS," we move the discussion forward from the vast devastation being caused by the pests and focus on possible options for effective combat in future
But the Director of Biotechnology, Nuclear and Water Research Institute at Atomic Energy Commission Professor Kenneth Elis Danso is optimistic that genetically modified organism (GMOs) is the solution to the problem.
He indicated that the genetically modified organism (GMOs) scientifically has no side effects on human health.Adding that, the application of scientific methods will also help to improve crop yield in the country.
For his part, the Chief Excercutive Officer, Biosafety Authority Mr. Eric Amani Okore also added that since the biotechnology can help in prevention of the Fall Army Worms there is the need to apply the modern technology in fighting the disease to promote productivity in the agriculture sector.
Meanwhile, the Ministry of Food and Agriculture (MoFA) says the fall armyworms, which have devastated large acres of farmlands, cannot be eradicated completely. According to the Ministry, a more integrated and holistic approach is currently being adopted to help manage the pests which have since 2016 invaded farms across the country.
The approach would among other things, include the deployment of pheromone trap in every region, as well as traine MoFA Staff and farmers on how to identify and manage armyworm manifestation.
"Like other invasive pest which have acclimatized in our sub-region the fall has come to stay and become a regional problem," the director of Plant Protection and Regulatory Services at the Ministry, Dr Felicia Ansah said.

[ad_2]
Source link