[ad_1]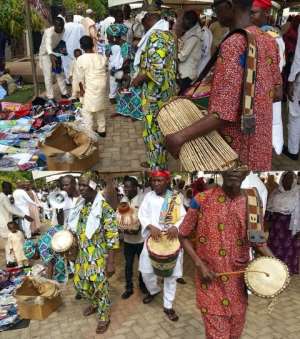 Lieutenant Colonel Yusif Musah Shamsudiin, the Chief Imam of the Ghana Armed Forces (GAF), has called on Ghanaians to overlook their religious differences and co-exist peacefully.
Imam Shamsudiin, who gave the advice at the Aziz Mosque in Burma Camp to mark this year's celebration of Eid-ul-Fitr, urged Muslims to show love to one another and learn to tolerate each other's opinions and views, to foster harmonious living.
He urged Muslims to pray for Allah's blessing and love, saying that, 'We must show love to one another, even the little that the Almighty God has given us, we have to share it with one another.'
Imam Shamsudiin urged Christians and Muslims to co-exist peacefully, since both religions were created by God, adding that, 'Irrespective of one's religious belief, we should see ourselves as one, because on the day of judgement, God will not separate us based on religion, so it is only logical that we live on this earth together.'
'The lessons Ramadan has thought us is very great, and the values should guide all of us throughout the year,' he added.
Imam Shamusudiin asked Islamic youth to celebrate the Eid-ul-Fitr festivities moderately and with a lot of caution to prevent accidents, adding that, it was no secret, the way Muslim youth had previously marked the Ramadan celebrations, and urged them to be modest in their celebrations.
He said accidents and chaos must be avoided during the Ramadan celebration, to protect the image of Muslims in Ghana, noting that, Eid-ul-Fitr was a momentous day for Muslims to remember Allah.
He wished Ghanaians a happy and peaceful Eid-ul-Fitr, and advised the citizenry to be patient with the government as it carries out its mandate.
Brigadier Brimah Musah, Former Defence Attaché of GAF in London, commended the Ghana Armed Forces for its 'religious tolerance and maintaining the unity that has long been the hallmark of the GAF.'
GNA
By Emmanuel Kwame Donkor, GNA

[ad_2]
Source link