[ad_1]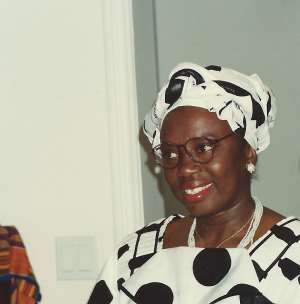 On behalf of the Spio Anona Ebusuapanyin Papa Kakrabu of Cape Coast, Ebusuapanyin Kweku Abeiku of Ekon, and the entire Anona Ebusua, Dr. Thaddeus Ulzen and family announce with deepest sorrow the sudden passing of
JOSEPHINE ABA AMPOMA CLEMENT, 62 (aka Mena Aba) beloved mother of Stella Eva Enos, and cherished grandmother of Margaret Olivia and Makayla Ampofo.
She is also survived by her aunt, Mad. Stella Enos,loving siblings -Ellen
Mercy Asaam, Paul Jerry KwaminaAsaam, Paul Jerry Ekow Asaam, Timothy Fynn-
Asaam, Adriana Asaam and JemimahClarebelEssiem – cousins, nieces, nephews and a community of trusted and devoted friends. Josephine died peacefully in March 2018 in Toronto, Ontario, Canada.
Funeral arrangementsare as follows:
FRIDAY, APRIL 20, 2018
4-8 pm Visitation & Service
SATURDAY, APRIL 21, 2018
10 am Visitation & Funeral Servive
Immediately followed by INTERMENT
BEECHWOOD CEMETERY
7241 Jane Street, Concord ON L4K 1A7
8 pm – Final Funeral Rites
APOSTLE CONTINUATION CHURCH
10 Belfield Road, Etobicoke ON M9W 1G1
SUNDAY, APRIL 22. 2018
10 am Thanksgiving Service
BETHEL PRAYER MINISTRY INTERNATIONAL
52 Carrier Drive, Etobicoke ON M9W 5R1
Attire: Saturday (Black & red); Sunday (White & black)

[ad_2]
Source link