[ad_1]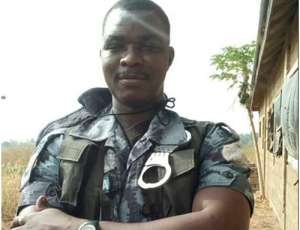 Sgt Seidu Yakubu
THE POLICE in the Brong Ahafo Region have arrested and detained a technical officer, Daniel Acquaye, who works with the Timber Industry Development Division (TIDD) of the Forestry Commission over the mysterious death of a police officer attached to the TIDD on Saturday night.
The police officer, Sergeant Seidu Yakubu, with service number (G 34611) attached to the Rapid Development Force but detailed to TIDD, DAILY GUIDE gathered, was having supper with his wife on Saturday at about 6:25pm when he was called by Daniel Acquaye to accompany him and others to go and effect the arrest of a rhino truck loaded with illegal sawn lumber on its way from Tanoso to Techiman.
Investigators were perplexed about the explanation offered to them on the circumstances that led to the death of the police officer. According to DAILY GUIDE's investigation, Daniel informed the police that while they were on normal patrol duties with Sgt Seidu Yakubu, they had a tip-off that a rhino truck loaded with illegal sawn lumber was heading towards Techiman from Tanoso, so they intercepted the vehicle near Chiraa at about 12:30 am on Saturday. He said there were three persons on board including the driver.
He told the police that after inspecting the truck, the TIDD officers realized that the car had no valid document so they intercepted and redirected it to the TIDD office in Sunyani for further investigations.
However, Sgt Seidu, who was then in uniform and armed, was asked to join the truck to the TIDD office while the TIDD van took the lead. He explained that the driver of the truck sped off just as the cop was about to join it and another person in the truck pushed Seidu and he fell and the truck ran over him.
According to the technical officer, Seidu was seriously injured at the waist and was rushed to the Brong Ahafo Regional Hospital in Sunyani, where he was pronounced dead on arrival. The explanation, the police in the region said, sounded fictitious and unbelievable because there were so many unanswered questions concerning it.
However, another account claimed that while the TIDD vehicle took the lead and was out of sight, the illegal loggers connived and killed the officer and dumped him into the bush and ran away.
A visit by DAILY GUIDE to the TIDD office to find more about the incident showed an empty office. A security on duty told the paper that due to the issue, all the big men did not come to office. Meanwhile, the suspect, Daniel Acquaye, has been detained to help in investigations while the body of the deceased was kept at the Sunyani Regional Hospital morgue pending autopsy.
According to investigators, Acquaye was not able to tell the police the registration number of the said truck and who gave him the tip-off.

[ad_2]
Source link