[ad_1]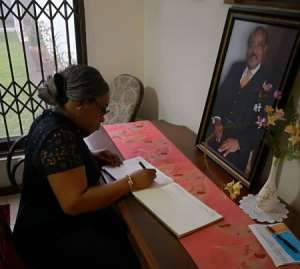 Shirley Ayorkor Botchwey, Minister of Foreign Affairs and Regional Integration, has extended her heartfelt condolences to the family of the late diplomat James Kwegyir Aggrey-Orleans who passed early Monday.
Earlier on when the news broke, the minister visited the bereaved family to commiserate with them during which she was accompanied by the Chief Director of the Ministry, Ambassador Albert Yankey; Director, Office of the Minister, Mrs. Sena Siaw-Boateng; and the Chief of Protocol, Mr. Samuel Kumah.
The ministry yesterday issued a statement that said: "It is with deep sadness that the Ministry of Foreign Affairs and Regional Integration (MFARI-Ghana) is announcing the sudden demise of Ambassador James Emmanuel Kwegyir Aggrey-Orleans; the sad event occurred at the dawn of November 19, 2018."
The statement pointed out that the deceased joined the Administrative Class of the Ghana Foreign and Diplomatic Service in 1963 and became well known for his professionalism and versatility.
The statement touched on his role as Ghana's High Commissioner to the United Kingdom and his appointment as acting clerk to Parliament and head of the parliamentary service.
The statement went on: "He was appointed and served as Assistant Director in charge of the Economic Information and Market Intelligence Division of the International Tropical Timber Organisation ITTO, a commodity organisation established in 1987 by the United Nations."
He is remembered for maintaining very close links with the ministry even after his voluntary retirement.
—Daily Guide

[ad_2]
Source link