[ad_1]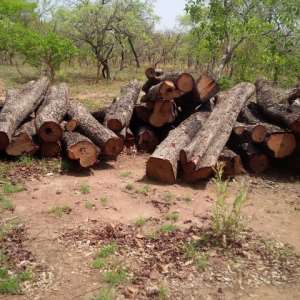 The failure by successive governments to maintain a sustained ban on the exportation of rosewood has been blamed for the increased felling of the wood in the savannah regions of the country.
Rosewood is considered an endangered species hence a ban the on harvesting of it, but the Ministry of Lands and Natural Resources continues to license companies to transport lumbered rosewood from the savannah regions where the companies later export the wood.
Records indicate that from 2004 to 2017, about 1,000,000 cubic metres of rosewood were felled in the country, a level described as unsustainable as the tree takes a minimum of 40 years to regenerate.
In 2017, the Ministry of Lands and Natural Resources lifted the ban on rosewood exportation and consequently licensed about 100 companies to collect 3000 cubic metres of lumbered rosewood for export.
Rosewood possesses a lot of economic and medicinal values and the unsustainable level at which the trees are being felled defeated efforts to conserve the environment as well as mitigate effects of climate change in the country.
The inability of government to perpetually ban the exportation of rosewood, which will prevent its harvesting, had become a source of worry to non-governmental organizations (NGOs) and activists in the sector, who question the government's commitment to conserving the environment.
At a quarterly Baobab Market conversation on rosewood in Tamale on Wednesday, it was revealed that pressure from political actors, companies, and traditional authorities continued to influence the decision of government to always lift the ban on exportation of rosewood.
Alhaji Osman Abdel-Rahman, Interim Chairman of the Baobab Market, said the rosewood situation must be treated as a national security concern, urging government to treat it like the way it was fighting illegal mining issues (galamsey).
The Baobab Market is a group of NGOs in the Northern Region that meets to identify, discuss and adopt strategies to collectively address development challenges to enhance the wellbeing of the people of the Region and the country at large.
Mr Bernard Tabil, Northern Regional Manager of the Forestry Commission, said the only way to stop the felling of rosewood was for chiefs and members of communities to stamp their authority by preventing licensed companies from collecting lumbered rosewood for export.
He also called on NGOs to collaborate with the Forestry Commission to intensify education on the need for authorities to take action to ban the export of rosewood thereby preventing the demand for the wood, which would mean that there was no incentive for felling the wood.
Some of the NGOs that took part in the discussions included the Ghana Developing Communities Association, Centre for Active Learning and Integrated Development, Urbanet, and the media amongst others.
GNA
By Albert Futukpor, GNA

[ad_2]
Source link