[ad_1]
The sustainability of the environment for a sustainable crop production is a shared responsibility for all stakeholders and players in the agricultural sector and to achieve this there is the need to mitigate measures towards the attainment of a dynamic and sustainable cropping system that supports balance in the ecosystem.
Serendipalm Company Limited, an organic palm oil processing company operating in Akyem Asuom in partnership with AgDevCo, a Not-for-Profit organisation in the United Kingdom has commenced a three-year training programme on Dynamic Agroforestry for Small-holder Farmers in the Kwaebibirem municipality of the Eastern region, Ghana. The programme is planned to benefit over 1,000 farmers in the development and the management of a dynamic farming system in the area.
Dynamic agroforestry is an ecologically-friendly farming system or technique of growing different types of crops on the same piece of farm lands with respect to the conservation of the natural biodiversity.
A trainer and consultant on the on the programme from Eco-Top Agro-Consult in Bolivia, Mr. Bastian Pellahammer in a field training programme for the farmers at the Abaam Demonstration farm of the Serendipalm Company on Dynamic Agroforestry introduced the farmer group to the concept of the farming technique in the installation, practices and the management of the farming system for its sustainability.
The farmers present at the training and demonstration programme endorsed the concept of the dynamic agroforestry and reiterated the importance of such system of farming for last four decades and the benefit it had on the ecosystem.
Mr. Rob Hardy, special Operation Team member of the Serendiworld admonished the farmers to adopt these succession steps in conserving the biodiversity for the future generation and strive to overcome any obstacle that may bridge them in adopting the concept of Dynamic Agroforestry.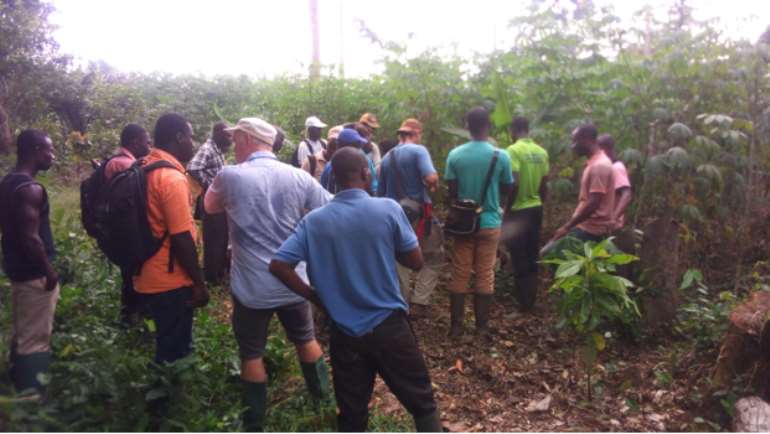 Speaking with the farmers present, the Managing Director, Safianu Moro advice the farmers to make good use of the support and the knowledge they would acquire from the various training and the regular technical knowledge from the field officers in the concept of the dynamic agroforestry to leave a sustainable legacy for the future generation. He pledged Serendipalm support technically and financially to support the small-holder farmers to practice on their farm lands.
Dynamic Agroforestry system of farming has become necessary as result of the destruction of the natural biodiversity for large scale crop production, mining and other degrading activities on the environment. To ensure sustainable farming system there is the need to practice a dynamic cropping system that supports the ecology.

[ad_2]
Source link