[ad_1]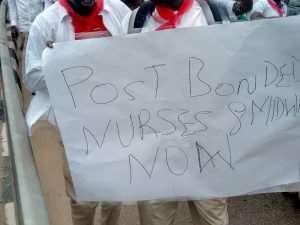 Some fresh graduate nurses have called on the Finance Ministry and the Ministry of Health to expedite action on processes associated with posting of nurses to various health facilities in the country.
Some nurses in recent times have been embarking on demonstrations to mount pressure on government agencies to employ them.
Some also kicked against the inclusion of nurses in the Nation Builders Corps, NaBCo initiative introduced by government, as they feared it will further delay the permanent employment of nurses into the public sector.
Speaking to Citi News during a graduation ceremony organized for over 60 Nursing and Midwifery Training Colleges at KNUST in Kumasi, the fresh graduates called on government to speed up processes involved in the recruitment of health service personnel.
According to them, they go through a lot of hardships when they are not given financial clearance on time.
"For me, I have already started my rotation and for almost 5 months now, and we have not received our allowances all because we haven't been given financial clearance. We are pleading to the government so we will also be given our financial clearance to be given our allowances because we are suffering."
"Some of us are renting apartments, some of us take car when going to work and with all these monies, we are not getting from our families again since we have completed school," one disturbed nurse appealed.
"The government should pay nurses working on time. At times nurses are paid after 3 months of working," another indicated.
The graduation ceremony which started on Monday and ends on Wednesday will have 10,978 persons graduating.p
Speaking at the programme, the Director in charge of training at the Ghana Health Service, Mr. Zana Dassa, said measures have been put in place to regulate the recruitment of health service personnel.
He says persons who are given financial clearance by the Ministry of Finance can now apply to regions of their choice.
"As part of strategies to ensure equitable distribution of staff to facilities, persons who are given financial clearance by the Ministry of Finance will be given the opportunity to apply to institutions of their choice. Based on the number of persons that are given financial clearance, each region will be given a number or a quota of staff to employ taking into considering the human resource gap in the service"
–
By: Edward Oppong Marfo | citinewsroom.com | Ghana

[ad_2]
Source link