[ad_1]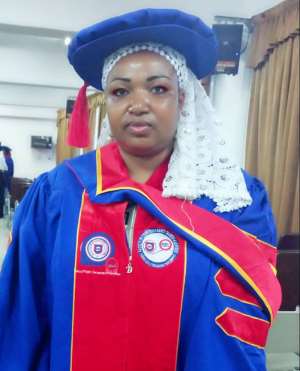 The Institute of Project Management Professionals (IPMP), Ghana over the weekend at its Annual conference held at the University of Professional Studies, Accra (UPSA) campus near Madina honoured distinguished individuals for their diligent services in their various professions and places of work.
Among the individuals honoured and conferred with a fellowship status of the Institute of Project Management Professionals (IPMP) was Mrs. Amina Sammo.
Mrs. Sammo is the Director of Projects and Programs at the Ministry of Inner-City and Zongo Development.
She is a Fellow of the Association of Certified Chartered Accountants (ACCA), London and a recognized member of the ACCA – Ghana Office; a distinguished Certified Banker and Marketer from the National Banking College, Accra – Ghana Office.
A certified Islamic Finance Executive from Ethica Institute of Islamic Finance, Dubai – UAE; a Bullet Proof Manager PGD Certificate from Crescom International Training Institute; MBA in Financial Management from the Kwame Nkrumah University of Science and Technology (KNUST) Kumasi, a Bachelor of Commerce Degree from the University of Cape Coast (UCC) and various high-end management certifications across a whole range of leadership and management institutions.
Mrs. Amina Sammo is also an accounting and finance consultant specializing in personal, SME and group financing; planning strategies and an ardent financial literacy campaigner.
Prior to her appointment at the Ministry of Inner-City and Zongo Development, she was the Executive Director and the Business Development Manager at Wi-Tech Group, East Legon. A group that is into Energy (Bulk Oil Distribution), IT supplies, installation and Maintenance, Travel and Tours and Properties.
She served in various capacities with CAL Bank Limited in Ghana over a period of nine (9) years as a Relationship Manager – Kumasi, Asset and Liability Manager – Head Office and eventually exiting as Branch Manager – Ring Road Central in June 2015.
Mrs. Sammo worked for 2 years as the Head of Finance and Administration on the EQUALL/School For Life/USAID project deploying educational solutions in eighteen (18) districts of the three Northern Regions of Ghana.
She further worked with BRM Wood Processing Company Limited as Head of Branch Operations, Finance and Administration and as a General Accountant with Armajaro Ghana Limited a Licensed Cocoa Buying Company, a subsidiary of Armajaro UK.
Mrs. Sammo has a wealth of experience spanning over 20 years in diverse industries.
She is a proven result- oriented person and a refined leader, customer centred with strong financial background who is able to influence and achieve results across varied corporate endeavours.
She is detail oriented and possess a strong knowledge of issues relating to strategy, planning, financial analysis, alternative asset and liability management, performance measurement, monitoring, recovery and reporting at all levels on the corporate ladder.
Her stance on exhibiting high ethical standards on all personal and corporate dealings are unmatched.
She is a devout philanthropist and loves social work with the less -privileged in society.
Her hobbies include travelling and taking care of kids especially the institutionalized ones with whom she loves reading with.

[ad_2]
Source link