[ad_1]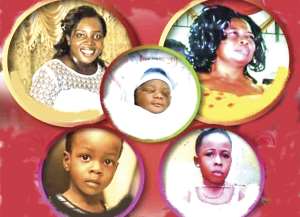 The five persons who got burnt in a tragic fire disaster at their home last week at Akoko Foto, Dansoman in Accra, will be buried on Sunday, August 26, 2018, at the Gbawe Cemetery in Accra.
They are Mrs Linda Kessie 31, the wife of Pastor Ebenezer Ato Kessie of the Dansoman District of the Seventh-Day Adventist (SDA) Church, Jason Kessie, a three-week-old baby, and Jaden Kessie, four, children of the pastor; Madam Grace Ampah 65, mother-in- law of the pastor and Precious Pokuah, a nine-year-old niece of the pastor.
Madam Ampah had brought along Precious on her visit to the Kessies, when Linda gave birth, to assist in taking care of the newborn baby but the one-storey house in which they resided was gutted by fire at about 5 a.m. last Sunday, killing all five.
Pastor Kessie, who was not around during the fire outbreak, was said to have gone for a camp meeting, as an Assistant Communications Director of the Accra City Conference of the SDA.
SDA Church
The burnt house, the Daily Graphic gathered, belonged to the SDA Church and had four pastors as occupants — two at the top and the other two below.
The five deceased persons, according to eyewitnesses, were trapped in the fire and were heard shouting for help but the shouting faded after a while as the inferno engulfed a greater part of the apartment.
The five were found dead when firemen broke into the house.
The two children of Pastor Kessie were found dead in the bathroom, while his in-law Madam Ampah and Pokuaa were found dead in another part of the house.
Investigations
Meanwhile, the Ghana National Fire Service (GNFS) has commenced investigations into the fire outbreak and are yet to establish the cause of the fire.
The acting Head of Public Relations of the GNFS, Divisional Officer Grade I, Mr James Oheneba Kwarteng, earlier told the Daily Graphic that "the GNFS was yet to establish the cause of the fire."
"For the cause of the fire, we are still investigating and we will let the public know when we arrive at a conclusion. Currently, we are working hand-in-hand with those who controlled the fire to aid the investigation," he said.
–

[ad_2]
Source link