[ad_1]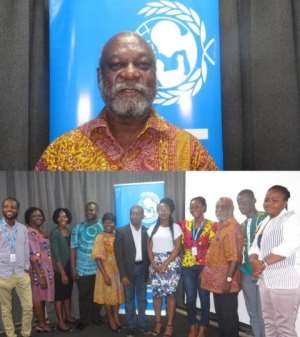 Professor Kwame Karikari, Dean, School of Communications Studies, Wisconsin International University College, has called for concerted efforts for child protection.
He said there was the need for a holistic approach by all stakeholders such as government, civil society organisations, the media and parents/ guardians to protect the legitimate rights of children.
He noted that it was important to ensure that children were freed from all forms of abuses and inhumane treatments.
Prof Karikari made the appeal in his presentation at a child protection seminar for some selected journalists in Accra.
The seminar, which was organised by the United Nations Children's Fund (UNICEF), was aimed at building the capacity of journalists on ethical reporting on children.
Prof Karikari urged the media to hold duty bearers such as members of parliament and Ministers of State accountable for the rights of children.
He encouraged journalists to respect and protect the rights of children.
He appealed to editors and owners of media houses in the country to give space to children in their media.
Prof Karikari said the issue of adolescents, over the years in the country had been relegated to the background; he therefore, urged the media to also champion the course of adolescents.
"The media should pay a little more attention to adolescents. If we are not careful, we will end up stifling their intellectual development," he added.
He said inequality in society was affecting children's wellbeing and their development.
He pointed out that Affirmative Action by the Government must end up raising the level of the people to address inequality in society.
Madam Offeibea Baddoo, Communications Officer, UNICEF Ghana, said in Ghana, children faced high levels of abuse, violence and exploitation in various forms.
She said strengthening of the Child and Family Welfare System would provide a safe and protective environment for children to grow and realise their full potential.
GNA
By Iddi Yire, GNA

[ad_2]
Source link