[ad_1]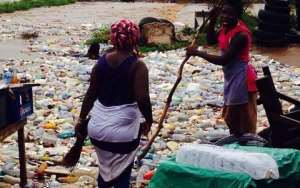 Civil society groups are calling for increased efforts to end plastic pollution which they say is a major threat to the health of Ghanaians.
They warn plastic pollution is particularly endangering marine life which has the potential to harm humans as well.
"The impact is huge. Today our fisherfolks go to sea and come back with more plastics than fish. And we can predict that soon, there will be more plastic and ocean creatures," Divine Agborli of civil society group Hipsters of Nature told Joy news at an event in Accra to mark World Earth Day.
Earth day is an annual celebration during which people all over the world demand action to protect the environment. The day was marked under the theme; "Eradicating Plastic Pollution."
Researchers say Ghana imports more than 10,000 metric tonnes of finished plastic products every year. Plastics contribute about 10 % of all waste generated in the country.
Majority of these plastics which hardly degrade remain in the environment, polluting the atmosphere and water bodies.
Michael Balinga, a Biodiversity Conservation Specialist at the West Africa Biodiversity and Climate Change project told a forum held to mark the day that more than 300 million tonnes of plastics are produced globally every year.
He said out of that number only 22 percent is recycled. He says all over the world, more than 8.8 million tonnes of plastics get dumped into the ocean.
"These plastics pose threats to creatures in the sea and about 700 marine animals face extinction due to the threat posed by plastics as a result of both ingestion and entanglement. It is estimated 50 percent of sea turtles have plastics in their stomachs," Mr Balinga noted.
Mr Balinga interacting with a visitor
The plastic products sometimes remain in the systems of seas creatures which are eventually consumed by human beings, thereby getting the toxic materials into the systems of humans.
The representative of Hipsters Nature called for action to stem the problem, noting education is key.
"Now, about 50 percent of marine life is filled with plastics and this cannot continue. There is the need for us to take action and the action must be taken now," Mr Agborli said.
"Ghanaians should reduce their appetite for the use of plastic and plastic packaging…city authorities, stakeholder agencies should come together to change the mindset of Ghanaians and shape their mindset against single plastic usage," he added.
Reuben Nana Yaw Quainoo, Executive member of Alliance for Science Ghana called for a comprehensive, all-encompassing plan that prioritises science and technology to end plastic pollution.
"There is the need for us to encourage people to abandon the use of plastics and encourage more recycling, but that alone will not be enough," he said.
"There is evidence that scientists in other parts of the world have tested the use of specific enzymes to possibly break down plastics using genetic engineering processes. These are options that can be considered to help deal with the problem," Mr Quainoo added.
Dr Niek van der Steen, an education management professional said the effort to end plastic pollution will require the involvement of all Ghanaians.
"There needs to be the will and where there is the will there is a way. Funding is needed. Political support is needed. The technology needs to be there. But the people must take their responsibilities," he said.
Story by Ghana|Myjoyonline.com | Joseph Opoku-Gakpo | Joy News

[ad_2]
Source link