[ad_1]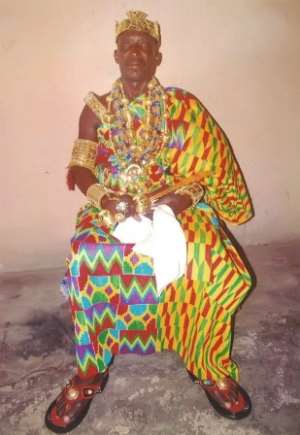 The Benkumhene of Gomoa Ajumako Traditional Area, Nana Kojo Beedu VI, has called on Ghanaians, especially chiefs, to assist the Government in its efforts at abolishing the formation and operations of illegal landguards activities in the country.
Chiefs and people living in towns and villages where land guards operates should muster the needed courage to report the activities of such groups to the security agencies for prompt action.
Nana Kojo Beedu was speaking to the media after cutting the sod for work to commence on an 80,000 Ghana Cedi development project at Gomoa-Amenfi in the Central Region.
He described as undesirable and totally unacceptable the behaviour of people who organize, instruct, and wilfully encourage land guards to destroy properties and in some cases, kill innocent people because of land issues.
Nana Kojo Beedu advised individuals, companies, and organizations wishing to secure lands for development purposes to always ensure that such lands were properly acquired to avoid using illegally-organized groups to guard their pieces of land.
The Benkumhene maintained that if lands acquired by individuals and organizations were properly documented, there will be no need for owners of such plots or pieces of land to illegally engage the services of land guards to harass and kill innocent people.
He praised Mr. C.K Okyere, the Life Patron of Winneba-based 'Anyidado Club' who acquired the land to construct a commercial project that would provide jobs for the unemployed citizens in the community.
On his part, Mr. Okyere expressed his appreciation to Nana Kojo Beedu and the people of Amenfi for the offer and co-operation and hope they would sustain it.

[ad_2]
Source link