[ad_1]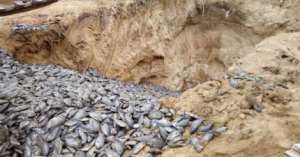 The National Disaster Management Organization (NADMO) has cautioned the consumers of tilapia to be careful in their consumption of the fish following the destruction of about 18 kilograms of unwholesome tilapia at Asutsuare in the Greater Accra region.
In an interview with Accra-based Starr FM, the Public Relations Officer (PRO) of NADMO George Ayisi said they are conducting market rounds to ensure that none of the fish is on sale in shops and stalls.
He said a District Security Council meeting is ongoing to decide on the next line of action.
'We should be worried. But it doesn't mean we should desist totally from taking tilapia. We just ought to be cautious when we want to. That's the advice I will give,' he stated.
'Until the lab report comes I cannot say authoritatively that stay away from tilapia or go ahead to eat tilapia. Let's be cautious as far as tilapia is concerned. That's all I can say for now,' he added.
About 18 tonnes of tilapia have been destroyed at Asutuare in the Greater Accra Region.
The fish were brought into the country by some Chinese nationals. The tilapia are suspected to be poisonous.
The reports have put fear and panic in Ghanaians but President of the Ghana Aquaculture Association, Jennifer Sodji said Ghanaians should not panic over the matter.
"We have buried the poisonous tilapia and we have ensured they don't get to the market pending the test results from FDA," Shai Osudoko NADMO Coordinator has said.

[ad_2]
Source link