[ad_1]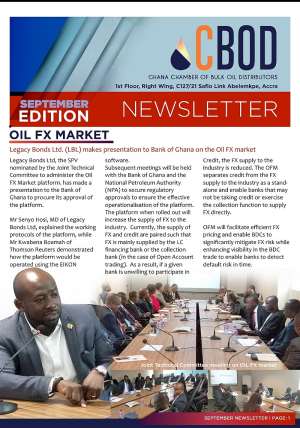 The Ghana Chamber of Bulk Oil Distributors (BDCs) releases its maiden newsletter that seeks to promote the activities of the downstream petroleum sector.
The September edition highlights events and issues that have occurred from the beginning of this year to August. The
The CBOD's maiden newsletter is one of the series of publications to be release on monthly basis to bring to the fore the operations of the Chamber as well as highlight key industry issues within the industry.
One of the pertinent issues that was highlighted in the newsletter is the Oil FX Platform (OFM) which set to address the FX risk faced in the trading of oil in the downstream as well as Credit Practice in Trade (CREPT), to tackle the credit risk.
Currently, the supply of FX and credit are paired such that FX is mainly supplied by the LC financing bank or the collection bank (in the case of Open Account trading). As a result, if a given bank is unwilling to participate in OFM will facilitate efficient FX pricing and enable BDCs to significantly mitigate FX risk while enhancing visibility in the BDC trade to enable banks to detect default risk in time.
Credit, the FX supply to the industry is reduced. The OFM separates credit from the FX supply to the industry as a standalone and enable banks that may not be taking credit or exercise the collection function to supply FX directly.
Kindly download a copy of the newsletter from http://cbodghana.com/download/cbod-newsletter-september-2018/.

[ad_2]
Source link