[ad_1]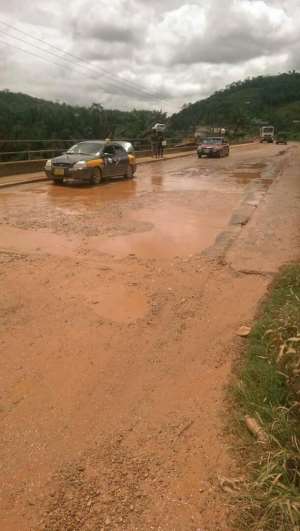 Prestea, Ankobra bridge
The main bridge linking Prestea to Bogoso, the Municipal Capital of the Prestea Huni-Valley Municipal Assembly is in a very deplorable state and is of a major concern to the people.
A civil society group based in Prestea known as Prestea Communicators for Development (PCD) blames the deplorable state of the Ankobra bridge on Golden Star Bogoso Prestea LTD (GSBPL).
According to the group, the operations of the mining company is the cause of the state bridge.
Mr. Francis Eshun, president of PCD spoke to modernghana.com;
"Prestea Communicators for Development PCD wish to state that the Ankobra Bridge in Prestea, it is the heavy trucks of Golden Star Bogoso Prestea Ltd which has brought the bridge to its current "near collapsed state".
It's is their responsibility, that since they have been able to use military to drive away poor Prestea school children from their bus, which used to pick school kids to GSBPL Basic School, they do the honourable thing by fixing the Ankobra Bridge they have used their heavy duty trucks to COLLAPS

[ad_2]
Source link