[ad_1]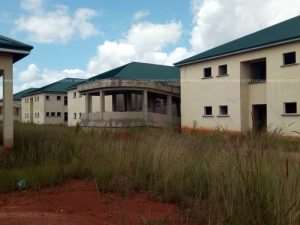 Government plans to complete the Bekwai District Hospital which has stalled in 2019.
This was made known in government's response to a petition forwarded by Citi FM and Occupy Ghana to the presidency, demanding the operationalization of abandoned hospitals in the country.
The Bekwai Hospital is one of the critical and strategic hospitals in the Ashanti Region.
The construction of the district hospital, which was initially part of a two-district hospital project under ADB HSRP III, commenced in September 2010.
The tendering procedure started in December 2008, and was awarded 18 months later in July 2010. The other hospital under the HSRP III project, the Tarkwa District Hospital, has been completed and has been operational since 2012.
The construction of the Bekwai Hospital has however stalled since 2012 due to inadequate funding.
The statement from the presidency said, "government intends to complete the hospital to bridge the geographical access gap in healthcare delivery as well as serving the under-served and un-served communities for the purposes of primary referrals."
The contract for completion of Bekwai District Hospital for an amount of EUR 22, 330, 550.00 between the government of Ghana, acting through the Ministry of Health and Ellipse Projects SAS France Limited, received Cabinet approval in July 2018, and subsequently parliamentary approval in the same month.
The Ministry of Health is currently waiting on the Ministry of Finance's advice on the signing of the loan agreement before proceeding to the site.
Petition by Citi FM and Occupy Ghana
The petitioners are also pushing for a comprehensive Emergency Response System (ERS) in Ghana, contending that the matters at hand have "reached a crisis point."
"The matters now require drastic measures, one of which is our request herein that the President takes urgent steps to operationalize the facilities and institute the ERS throughout Ghana."
They urged government to publish a clear road-map with timelines for addressing the matters.
It is the conviction of the petitioners that the facilities when operationalized, will "reduce pressure on the existing tertiary and regional referral facilities, and add about a 4000-bed capacity to the existing nationwide figure of about 20,000 beds."
The petition was forwarded to the presidency on July 25th, 2018

[ad_2]
Source link