[ad_1]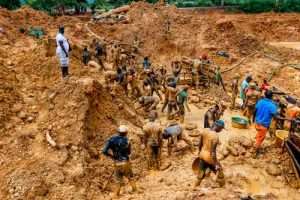 The government has announced the much-anticipated ban on small-scale mining, setting Monday, December 17, 2018, as the official date.
This was made known by the Chairman of the Inter-Ministerial Committee on Illegal Mining, Professor Kwabena Frimpong-Boateng on Friday, 14 December 2018 said, only small-scale miners who have had their concessions validated will be allowed to mine.
The new policy framework will ensure that the over 3000 newly trained former illegal miners, as well as thousands more, who are interested in mining can operate legally.
This comes twenty-one months after a ban was imposed on small-scale mining activities in the country.
In March 2017, government imposed a ban on small-scale mining due to the infiltration of illegal operators in the system. The illegal activities of the galamsey operation was having dire effect on Ghana's forests and water bodies.
Upon the institution of the ban, a security operation known as Operation Vanguard comprising military and police was launched to enforce the ban. Operation Vanguard contained the situation to some extent by arresting illegal miners and seizing their equipment.
Following that, an Inter-Ministerial Committee against illegal mining was established to supervise ban and the transition to the new legal and well-regulated mining regime. The committee has completed its work and received cabinet approval to roll out the new framework which was launched today.

[ad_2]
Source link