[ad_1]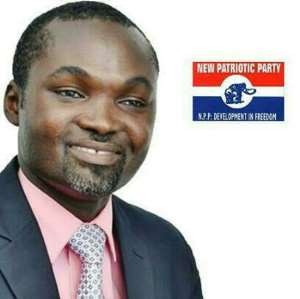 The Akatsi North District Assembly under the tutelage of the Hon. Dr. Prince Sodoke Amuzu the DCE, has presented some 153 mono desks to the Ave Senior High School.
This has become necessary due to the high record of student population enrolled as a result of the government's free SHS policy.
The now populated school has made the students outnumber the furniture available in the school and with also a high record of broken down desks. This has impacted negatively and created unfavourable atmosphere for teaching and learning.
The DCE in a short speech before the handing over of the furnitures admonished the students to rather marry their books now to begot success. He continued that, the day will also be used to have a conversation with the students because their input into the governance system is very important. He quizzed the students to know if they are fully benefiting from the FreeSHS policy of which Avesco is a beneficiary in terms of three square meals for the "boarders" and a lunch for the "day" students: a response that was positive. He continued that, the District Assembly in consultation with the school authority will also provide a hot afternoon meal annually for WASSCE candidates to enable the candidates concentrate on their studies during their external exams.
He also confessed, his attention has been drawn to some other challenges in the school which includes, the poor nature of the school's toilet facility, staff accommodation, dinning Hall, boys dormitory and the unmotorable nature of the main road to the school. He explained that a concrete evidence can be seen by the students themselves since work is progressive on the road. The road has been steadily drained waiting for regraveling to make it more motorable. He advised the students to get busy and study hard for the future. He asked them to desist from attending unwarranted wake-keepings, acts of sexual promiscuity, taking to drinking alcoholic beverages and hard drugs like marijuana and the now rampant tramadol.
The Prefect of the school, Master Daniel Adorku was very grateful to the government and the DCE for his timely presentation since the school is in dying need of furnitures because of the hype in student population. They appealed to the DCE and the government to come to their aid to close the gap in the school's infrastructure deficit: a problem long due towards the development of the school. Other problems outlined include the completion of their assembly hall, Science lab, Library and completion of the fence wall around the school.
The DCE was accompanied by the District Coordinating Director Mr Cobbah John, the District Director of Education, Madam Philomena Amederke, the NPP Constituency chairman and some party folks.

[ad_2]
Source link