[ad_1]
Just a glance at Kenya's Gross Domestic Product (GDP) for 2016, one cannot miss the glaring shadow cast on Travel and Tourism. At 4% contribution to the country's GDP, the sector takes up a major fraction of the economy, and foreign exchange – second only to Agriculture. Though this is not news to economists, its growth has seen record numbers albeit the gloominess at the start of the decade.
Already equipped with what it takes – stunning coastlines, wildlife safaris, Masai Mara Reserve (world's 7th wonder for the wildebeest migration), natural rainforests and an extraordinary ecosystem – Kenya's domestic tourism sector is thriving.
The numbers between 2015 and 2016 are proof that the traditional European market is increasingly offset by arrivals from other African nations which increased by 30%. These visitors were mainly from Uganda and South Africa who, together, accounted for 35% of the continent's arrivals to Kenya.
This consistent growth sustained by domestic and continental travelers, represents attractive earnings for global hotel chains. Both Ibis Styles and Radisson Blu have been quick to establish pocket-friendly rates in Westlands, Nairobi for these budget-conscience tourists. These are also major opportunities to gain for companies in the supply chain such as Food & Beverage, Laundry Services, and even Hospitality Training.
There however remains a gap in the hospitality sector. One that caters to the Kenyan whose disposable income remains hinged on the basics. This is noticeable when you compare the destination searches by Jumia Travel customers against the average rates for each destination and where customers end up booking (usually popular hotels of 2-3 stars).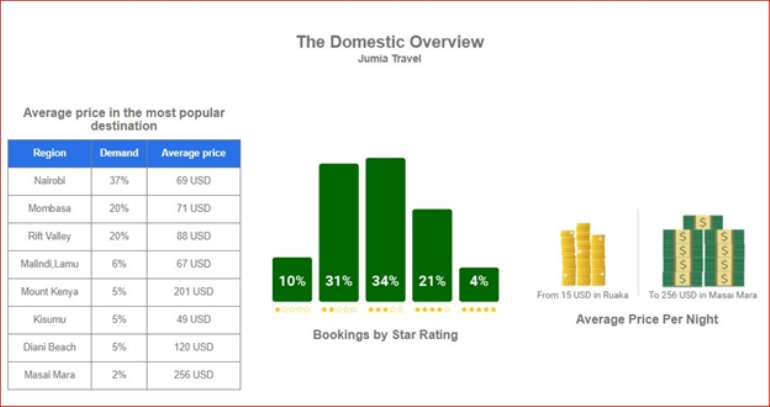 How can the discrepancy be sorted out?
Another sector that has drawn out the international players to Kenya is the lucrative real estate. The sector accounts for about 9% of Kenyas Gross Domestic Product (GDP). From a survey done by Jumia House, more than 60% of Kenyans prefer investing in land and Real Estate when it comes to securing their investments.
Nonetheless, this demand from investors and genuine buyers has fueled the hyperinflation of anything real estate. For instance, Nairobi's Real Estate prices have been on a continual rise of 25% since 2011. Kenyans are paying more in mortgage than they're getting in rental income in the short-term.
For skeptics, the question is how can this investment be turned into a profit-generating venture?
Real Estate and Travel & Tourism can be fused to fill the need for the customer looking for a fairly-priced accommodation for his holiday, while the homeowner is earning a bit more than monthly rent.
The winning destinations for holidaymakers are the capital Nairobi , the Kenyan Coast, Masai Mara and Rift Valley Towns like Nakuru and Naivasha; with the former two making good case studies.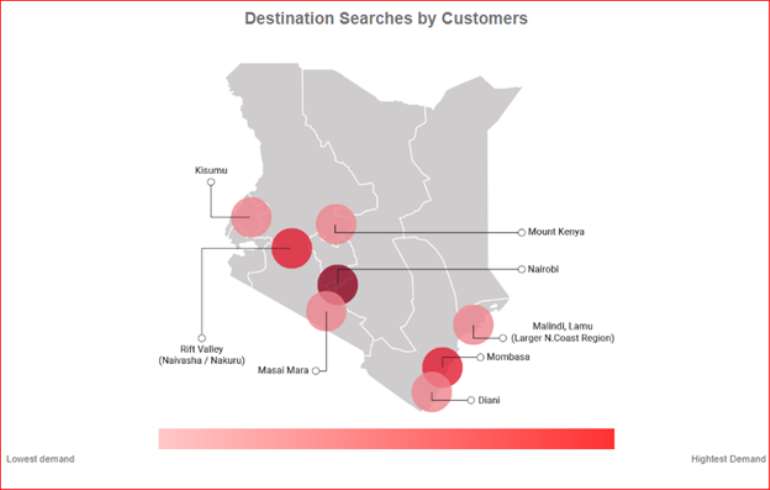 When you compare the rates per night between the 3 Star Hotels and the Apartments in Nyali, a guest immediately gets a 50% discount by choosing to stay in an apartment. Even by adding the grocery shopping and hiring a chef, the rates do not catch up. For the home owner, a 5-night occupancy is equivalent to a 30-day rent.
In terms of employment, homeowners create jobs by employing chefs, caretakers and security services. They're also able to utilize their own workforce and highlight the region's cultural uniqueness as opposed to imposing a standardized 'global' hospitality experience.
If there's something the small-scale investor can take to the bank is that the hospitality sector offers life-changing opportunities for thousands of Kenyans. For decades the role of Travel & Tourism has been a necessary accompaniment to job creation, economic growth and in recent history, an afterthought to infrastructure development such as the Standard Gauge Railway Line.

[ad_2]
Source link