[ad_1]
ASA Savings and Loans Limited has constructed a borehole for the Mampong Benim community in the Eastern Region.
The company in collaboration with Christ Soteria Clinic hospital held free medical screening with medicines for clients and residents under the Mampong branch.
Residents were given free treated mosquito nets after they were tested for Malaria, cholesterol, blood pressure, Hepatitis B, Glucose and general screening.
The cost of Borehole and Medical screening was Ghc21,000.
Commissioning the borehole, the Chief of Benim, Nana Bona Opoku Kontihene said over 5000 community members can now access clean portable water, which will help improve overall health and sanitation of the Benim community.
He noted that the community has over the years faced with lack of clean and safe water which was a major worry to the health concerns of the people in the community.
The Deputy Managing Director Mr. Md Shah Abdul Wahab said his outfit is committed to supporting ongoing developmental projects in the communities they operate.
"Our CSR activities are wide and varied supporting programs spanning Education, health screening with free medicine and mosquito net, Donations, Boreholes, scholarships and so on," he stated.
According to him, in 2018, the company undertook Medical Screening (Malaria, Hepatitis-B, BP, Diabetic, General Screening with free medicines, distribution of mosquito nets) and Donations in 75 communities benefiting 11,000 people at the cost of $77,000.
He added that this year, the company has budgeted $100,000 for its Corporate Social Responsibility programme.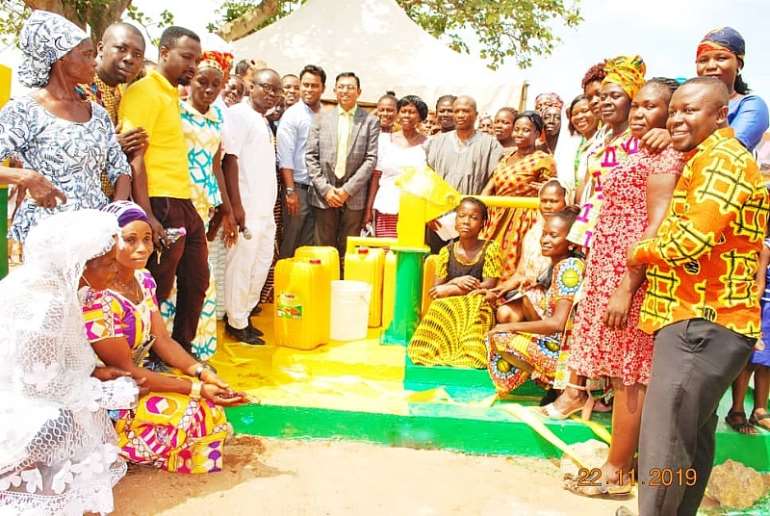 The CSR programme, Mr. Md Shah Abdul Wahab indicated includes providing mechanized boreholes for communities which lack access to clean and safe water, Scholarship awards to needy but brilliant children, General health Screening with free medicine, Breast Cancer screening, distribution of mosquito net, donation to orphanages & underprivileged schools and many more.
As at the month of October 2019, he intimated that the company has expensed USD82,000 for its CSR programme benefiting 14,000 persons through 93 activities in various regions.
Present at the event were Nana Boakye Yia Adom Mampong Gyase Hene, Nana Wiredu Akuaffo Mampong New Town Chief, Mr. Md Mohiuddin Sikder Operation Manager ASA S&L, Mr. Sayed Amirul Haque Divisional Manager ASA S&L, Mr. Samuel Odame ASA S&L Area Manager Mampong Area, Mr. Felix Adedeme ASA S&L Area Manager Suame Area and Mr. Edward Twumasi, Mr. Seidu Abdullai, Mr. Ismaila Ansah Branch Managers ASA S&L.
About Asa Savings And Loans Limited
ASA Savings and loans limited (ASA S&L) is a subsidiary of ASA International, a global microfinance leader in Asia and Africa. ASA Savings and loans started operations in 2008.
ASA Savings and Loans limited currently has 123 Branches and Business Centers across 9 regions of Ghana and currently serving over 200,000 clients and providing direct employment for 1,000 staff.
It is the plan of the company to cover all regions of Ghana in the near future.
The focus of the company is to provide financial services to people in the informal sector that are constrained financially in order to assist to establish their own business or to expand their existing business.
ASA S&L is a proud member of the GHANA CLUB 100 and was ranked 6th Best Company in Ghana in 2019 edition. The company was also ranked 12th Best Company in Ghana, 2nd most profitable Company in Ghana and the 3rd fastest growing company in Ghana in 2018 edition of GHANA CLUIB 100. ASA S&L was ranked 17th and 20th positions in the 2017 and 2016 editions of the GHANA CLUB 100 Awards.
ASA S&L was also adjudged the Overall Best Taxpayer (MTO) in 2014.
In 2018, the company was awarded by the Students Loan Trust Fund (SLTF) for its exemplary performance in repaying student loans on behalf of its employees.
[ad_2]
Source link