[ad_1]
The Country Manager for SNV, Mr. Eric Banye, has declared that an Open Defecation Free (ODF) society, is a society with better opportunities for socio-cultural and economic development.
He said when a community is declared ODF, its stands a better chance and opportunity of attracting development to its Health, Education and Agricultural sectors.
Mr Banye said this when he addressed Traditional leaders and members of the Nandom District Intersectorial Coordinating Committee.
He indicated that it is quite embarrassing to see people defecating openly in these modern times. He said Nandom has however, been a shining example with regards to issues concerning Open Defecation Free in the Northern and Upper Regions, and Ghana as a whole.
Nandom District was ranked 7th in the 2017 Ghana League Table. This according to Mr. Banye the attainment of 91% ODF by the District, contributed immensely to the impressive performance on the Ghana League Table. "Nandom has in the last two years been consistent with its performance on ODF"
He revealed that the District has currently moved upwards from 91% to 96%. Mr. said 84 out of 88 communities in the District have so far attained ODF.
He commended the District Assembly, particularly the District Chief Executive, Traditional Leaders and Assembly Members and other stakeholders for their contribution and support to the process.
On his part, the District Chief Executive for Nandom, Mr. Thaddeus Arkum Aasoglengang, expressed his profound gratitude to SNV for their technical and financial support to the project. He said SNV has been the cornerstone of the success stories from Nandom.
Mr. Aasoglenang said behavioral change is a very difficult phenomenon to achieve. He said even though the project ended in September 2018, SNV took an administrative decision to ensure that Nandom attains 100% ODF. He said byelaws will be enacted to ensure that people do not slip into defecating openly again.
A member of the Nandom Traditional Council Ko Naa (Naa Domepeeh Gyere III), said the gains made by Nandom in the area of Open Defecation Free must maintained and guarded against its slippage. He said the traditional council has on their part, served letters to all traditional leaders, area heads and religious leaders to engage with their people and sensitize them to change their attitudes towards the environment.
The Nandom District Environmental Health Officer Mr. Jerry Sabogu, advocated for a continuous training of Natural Leaders in the communities. "This will help in the continuous and regular monitoring of communities.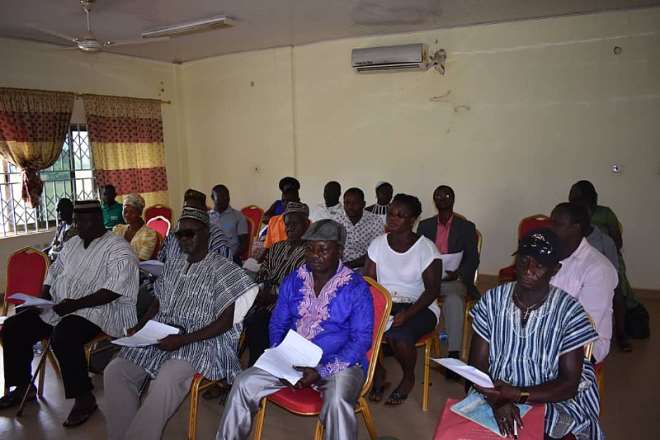 [ad_2]
Source link