[ad_1]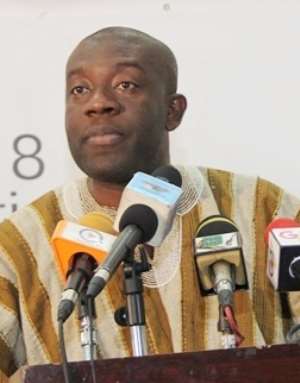 A special package to boost Agriculture in general and help farmers is expected to be announced by the President Nana Akufo-Addo on Farmers Day Friday 7th December in Tamale.
Mr Kojo Oppong-Nkrumah, Information Minister, who announced this, on Wednesday, at a media briefing, in Accra, stated: 'We will also use the provided opportunity to highlight work aimed at improving the welfare of farmers.
'Government has demonstrated beyond doubt that it is committed to transforming and modernising agriculture and improving the lot of farmers.
'We will not spare any resource in enhancing this. Ayekoo to our farmers!
The celebration is on the theme: 'Agriculture, Moving Ghana beyond Aid'.
Activities to mark Day started with a National Agricultural Fair from Thursday, November 29, and it would be climaxed with a national durbar, on Friday, December 7, at the Aliu Mahama Sports Stadium in Tamale, Northern Region.
Mr Oppong Nkrumah said the theme reflected the premium placed on Agriculture by the Government and the critical role of the sector and its players in Ghana's ability to meet the goal of not depending on aid to grow.
'It will be used not only to reward hardworking Regional and National Best Farmers but also as a platform to outline efforts by the administration to enhance agricultural productivity and its rewards to farmers in 2019 and 2020,' he said.
The Minister explained that though 34 per cent of the employment population was engaged in agriculture, the sector's output and its rewards to farmers had been dwindling in recent years.
Mr Oppong-Nkrumah said growth in the sector had dwindled to 0.9 per cent in 2014, 2.3 per cent in 2015 and 2.9 per cent in 2016.
He said, in 2017, the Administration introduced the Planting for Food and Jobs Programme, targeting 250,000 farmers.
The Programme was focused on supplying inputs to farmers, including fertilisers and improved seeds, and providing farmers with Agric Extension services to assist them to use modern methods to increase yields.
It assists farmers with marketing channels for their output through the organised buffer stock company and licensed buying companies.
Statistics from Ghana Statistical Service indicate that productivity was boosted to an estimated 6.1 per cent, subsequent, to the Planting for Food and Jobs interventions.
The Minister said, in 2018, the targeted number had been doubled to 500,000 and an additional growth of 6.8 per cent was expected, explaining that 2017 target of farmers was also exceeded.
Mr Oppong-Nkrumah said in 2019 the Programme would be expanded to focus on the number of farmers, kinds of inputs and the produce, as well as markets, particularly, with a focus on international markets.
He said these were expected to yield 7.3 per cent and 7.0 per cent for 2019 and 2020, respectively.
However, the details of the expansion would be out-doored at the event of Friday.
He said the expansion programme would also allow for a collective assessment of the impact of the Agricultural Sector on the National economy.
He said all regional award winners would be acknowledged at the National Level since there would be no celebration at the regional levels.
The award categories include Regional Best Farmer, First Runner Ups, Second Runner Ups, Regional Best Agricultural Extension Agent and Best Regional Fishermen, with 10 persons being honoured in each category.
—GNA

[ad_2]
Source link