[ad_1]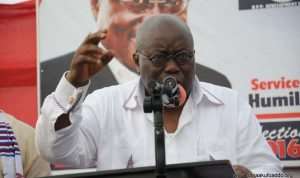 President Akufo- Addo says his government is determined to protect the rights of all Ghanaians in the delivery of justice.
This, according to him, will be made possible by his administration's commitment to work tirelessly to address legislative and policy loopholes.
Speaking at an Awards Dinner in celebration of 10 years of the Justice For All Programme (JFAP), Nana Akufo-Addo said Ghana cannot be a nation where some are under the shed of freedom and justice while others are rid of its protective shade.
He said it is the desire of the government to ensure that every Ghanaian gets equal access to the institutions of justice.
"Government is determined to promote the rights of all Ghanaians in the spirit of the constitution and to work tirelessly to address the legislative and policy loopholes in the justice delivery system ultimately to move Ghana to her desired standard, i.e a Ghana Beyond Aid."
The JFA Programme
The Justice for all Programme was established in 2007 by then Attorney General and Minister of Justice, Joe Gartey.
Its main objective is to decongest the country's prisons and promote prisoner rights, especially those of remand prisoners.
The programme involves the setting up of special courts at the prisons where cases of prisoners who met the criteria of the programme are reviewed.
The JFAP has been beneficial to the vulnerable and poor who find themselves in detention for one reason or another, and are unable to afford the legal fees, and so self-represent or remain unrepresented.
Non-governmental organisations (NGOs), such as POS Foundation, Churchill, HelpLaw and the GIMPA fLaw Faculty and some public-spirited individual lawyers are the wind beneath the wings of the programme.
Funding for the programme is received from international bodies such as the Danish International Development Agency (DANIDA), the United Nations Development Programme (UNDP), the United States Agency for International Development (USAID), Star Ghana, the Department For International Development (DFID), the British High Commission, the European Union among others.

[ad_2]
Source link