[ad_1]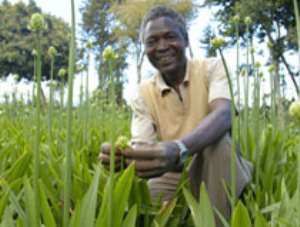 Agricultural Investment Management – Africa (AIM-Africa), an Agriculture-centred private organisation dedicated to the training of farm inspectors and service providers has initiated moves to train about 10,000 youth to provide farm services to farmers in 24 months.
The move seeks to augment Extension Agents services to farmers with keen interest on providing daily farm services across the country, especially those in far-reaching villages and hamlets.
This, the organisation believes would transform the minds, skills and misconception about farming to attract more youth to venture into agriculture as a viable means of livelihood.
Addressing participants at a day's training workshop on best agronomic practices held at Assin Bereku, Mr Isaac Manu, the Chief Executive Officer, of the organisation said they were determined to ensure that the youth, aged between 18 and 35, became productive by earning decent incomes from farming.
The participants numbering over 100 including two females were drawn from the Western, Eastern, Ashanti, Brong Ahafo, Northern, Upper West, and Central Regions.
They were taken through human health and crop safety, pruning, spraying, fertilizer application methods and hand pollination to help control the use of excessive chemical application and support good agricultural practices.
On precautionary measures, they were advised to handle chemicals with prime concern about human health and be very meticulous with quality, dosage and approval from its use in order not to endanger their own health and farm produce.
They must also protect their body by wearing protective cover including; wellington boots, nose cover, hand gloves, eye-shade, heavy-cloths, ear-protector and desist from inhaling, eating, smoking, tasting agro-chemicals.
Expressing concern over the increasing number of youth who completed school without employment opportunities in the country, Mr Manu underscored the need for all to support to create gainful employment to the idling youth across the country.
He mentioned the lack of employable skills among the youth to get none existing white-collar jobs after school, hence compelling them to resort to social vices to earn a living.
To address it, he indicated that the organisation had come at an opportune time to address those challenges with collaboration with the Ministry of Food and Agriculture (MOFA) and the youth would be supported technically and assist them with funds and in the management of their farms, especially in the areas of book keeping and investments.
He expressed confidence that the incentive package, together with supply of free seedlings would motivate farmers to co-operate the farm service providers to cut diseased, moribund and overaged cocoa tress to increase their yield.
Linda Osei, a participant from the Eastern Region lauded AIM-Africa for the practical training exercises and extending their years of agricultural services to cover all the corners of the country and pledged their dedication and commitment to impact the knowledge acquired to all farmers irrespective of their geographical location to protect national food security.
GNA
By Isaac Arkoh, GNA

[ad_2]
Source link