[ad_1]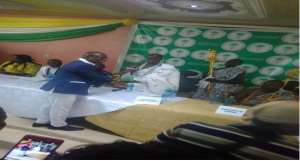 Oklepeme Nuer Anobaah Sasraku II, the Konor of Yilo Klo presenting Award to Oheneba Ntim Barima at the 1st public lecture on alternative medicine held.
Oklepeme Nuer Anobaah Sasraku II, the Konor of Yilo Klo State has revealed that, the Nyarkotey College of Holistic Medicine has acquired 100 acres of land at Afienya to construct an ultramodern Natural Medicine University. He said this at the maiden edition of the Nyarkotey College of holistic medicine public lecture on alternative medicine held at the weekend at the Ashaiman campus of the college.
According to Oklepeme who is the Chairman of the college board of Trustees also revealed that the future Nyarkotey University College of Holistic Medicine will introduce more specialties programs such as Post Doctorate Residency which would be a 2-3 years specialist/ research program that enables the Physician acquire specialist medical knowledge in the different specialties in Holistic Medicine. Eg Holistic pediatrics, Holistic psychiatry, holistic geriatrics, holistic gynecology and obstetrics, Holistic Urology, Holistic Oncology etc.
Other programs are Fellowship/Consultant Program also a 2-3 years advanced research Program that enables one who is already a specialist in Holistic medicine become a consultant.
The Fellowship in Integrative Medicine would be a 1,000-hour, two-year learning program for Conventional Medical Doctors and other license Physicians intending to practice integrative medicine. The objective of the Integrative Medicine fellowship is not to train conventional practitioners to fully practice a CAM discipline. It is, rather, to create a practitioner who is knowledgeable enough about integrative care to function as a skilled guide/adviser to the patient and a collaborative member of multidisciplinary and integrative patient care teams – one who can work effectively with both CAM and conventional practitioners.
The fellowship would provide an intensive exploration of clinical, educational and research activities related to integrative medicine for Medical Doctors and others who have satisfactorily completed their residency training. Although fellowship candidates need not be experienced in integrative medicine, they must have shown a documentable interest in the field (courses taken, conferences attended, self-paced learning, clinical experiences, etc.).
All these future unique programs would be in consultation with the government statutory regulating body for Traditional and Alternative Medicine (TMPC) of the Ministry of Health. Fellows will contribute to the continuous quality improvement of the program by helping to build a library of case studies and teaching materials, by performing research, and by giving feedback on the program itself at the end of their fellowship year.
The college is also in the process of seeking for more international affiliations with natural medicine Universities of good repute for future collaborations.
"As the chairman, I used this opportunity to thank the government statutory regulator for their advice and collaboration for successfully taking off of this noble college"
About the Nyarkotey College of Holistic Medicine
The Nyarkotey College of Holistic Medicine has a simple mission to promote, propagate, and train highly qualified Holistic Medical Practitioners in Ghana and Africa to meet the health needs of the population through evidence based holistic education, research and clinical practice.
It also aims to educate future leaders in Holistic Medicine and sciences, and work with the regulators in Ghana and Africa to help streamline the practice of alternative medicines.
To be the preferred Holistic Medical School in Ghana and Africa, provide ground breaking and cutting edge academic center for advancing and integrating knowledge in Holistic Medicine and sciences to ultimately change the health and well-being of the human community in Ghana and Africa. The college offers professional programs in holistic medicine and has two campuses: Ashaiman and Tema community 7.

[ad_2]
Source link