[ad_1]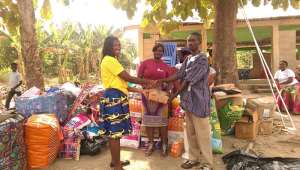 As part of its plans to help the underprivileged people and cognizant of the critical roles of the Church in the society, Members of the Adventist Smart Women ,a social group of the Seventh Day Adventist church have donated items worth over GH¢ 1300 to the entire residents of Baakoniaba in the Atwima Mponuah district of the Ashanti Region.
The items included cloths, bags, shoes, provisions, and assorted drinks, bags of rice, bibles, books, pencils, pens and food stuffs.
The group also presented plastic chairs, wall clock, pulpit and carpets to the SDA church in the Baakoniaba community.
The donation was made after the group launched a project dubbed "Project Touch A Life".
The founder of the group, Mrs. Dora Asamoah Antwi told thepressradio.com's Jacob Agyenim Boateng after the presentation on Saturday, December 22, 2018 that, the Adventist Smart Women is a group of Seventh Day Adventist women organized through social media particularly Facebook from over 15 countries who have come together to inspire and make meaningful impact in the lives of others.
"There are certain things that the government cannot do by itself, so as it is our social responsibility to help the needy," she said.
Adding that, this was the contribution of the group towards the upkeep and enhancing the standard of learning of the students of Baakoniaba as well as promoting the SDA church in the community.
"As the year is coming to an end, you see a lot of people eating, drinking and making merry. Sometimes people who are underprivileged mostly, those in the rural areas are left alone and feel neglected but as a social group and Christians we don't want them to feel being neglected. So we took it upon ourselves as a social group and Christians to show passion to the people in this community" Mrs. Dora added.
Mrs. Dora Asamoah Antwi therefore appealed to other associations, individuals and groups to show compassion for the poor, orphaned and the underprivileged in society.
The People of Baakoniaba expressed their gratitude to the Adventist Smart Women saying the generous donation came at the right time.
The Traditional Ruler of Baakoniaba Nana Osei-Wusu who received the items on behalf of the community thanked them for their kind gesture.
He called disclosed that the Baakoniaba community is going through a hard time with students studying under trees. Nana Osei -Wusu called on NGOs and other benevolent organizations to come to their aid.

[ad_2]
Source link