[ad_1]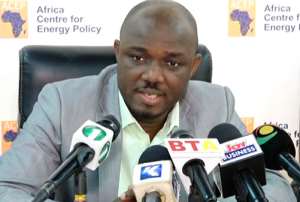 African Center for Energy policy (ACEP) mounts pressure on Government to account for the whereabouts of over 4 million Ghana Cedis of budgetary allocation that went unutilized in the 2017 budget. ACEP wants the Government and the Finance Minister, Honorable Ken Ofori-Atta to give accounts of why the huge sum of money went unutilized, as well as what has happened to the money.
Speaking at a Press Conference today to reveal the 2017 Reconciliation Report of the Petroleum fund, Executive director of ACEP, Benjamin Boakye explained that the law requires that the first quarter of the preceding year, the Minister should reconcile the activities of the year relative to petroleum oil revenues and tell us exactly what he did with the money.
"We saw the reconciliation report and realized that they didn't spend how much they were supposed to spend even though the money is there or is supposed to be there. Most of the sectors in the country did not use all of the monies that was allocated in the budget for them", he said.
"The question really is why did the Minister not spend the money according to his program? And why has he failed to report on where the money is and what he intends to do with that money? These are questions that we are asking and demanding answers for because we need to know".
He recalled that in 2014 similar thing happened where the balance of the budget allocated was 600 Million Ghana Cedis and all they heard was that the money had been swept by the Bank of Ghana and till date they do not know where that money is. He insists that if we don't track this money that could become a similar episode of oil revenue misuse.

[ad_2]
Source link