[ad_1]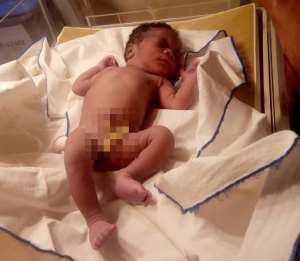 A day-old baby-girl dumped in bush
A day-old baby girl, who was dumped in a bush, has been rescued and is currently receiving attention at the Neo-natal Intensive Care unit of the Kintampo Municipal Hospital.
The baby, who was wrapped in a black polythene bag, was found in a gully near a stream called Abonturudu, a popular place within the Kintampo township, close to the lorry station at Kintampo in the Brong Ahafo region.
Modernghana.com's investigations revealed that the loud cry of the baby drew the attention of passersby and residents who subsequently reported the incident to the local radio stations at Kintampo.
The numerous announcements by the radio stations caught the attention of the Kintampo Divisional Police Commander, ACP Joseph Gyau Antwi who went to the scene with his men to retrieve the baby and sent her to the Neonatal Intensive Care Unit of the Kintampo Municipal Hospital for attention.
ACP Joseph Gyau Antwi said such incidents are not new in the area, adding that investigations were underway to trace the parents of the baby
He urged residents in the area to furnish the police with information to help them to find the parents.
Some residents who spoke to myarkfmonline.com expressed their disgust about the incident and called on the police to strive to get to the bottom of the matter.

[ad_2]
Source link