[ad_1]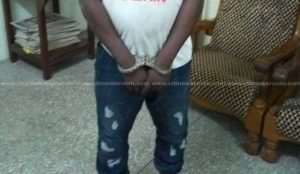 Evans Aboagye, one of the teenagers said to have attacked, George Somuah Bosompem, a teacher at Asiakwa leading to his death has been arrested by the police.
Evans Aboagye was hiding in a friend's room at Asiakwa when he was arrested on Friday evening after a tip-off from residents in the areas.
He has however been sent to the Kibi police station where he is expected to be kept in custody till he appears in court on Monday.
This latest arrest brings to six the number of arrests made following the attack.
Four of the suspects; Richard Anani, Emmanuel Mireku, Philip Okodie and Paul Boadu have been charged with conspiracy to commit murder and murder at a court hearing have been remanded into police custody to reappear on May 14.
The fifth arrest, of one Hezekiel Boadu, was made on Thursday.
A source close to the family of the late George Somuah who disclosed this latest arrest to Citi News expressed satisfaction with the speed at which the suspects have been apprehended.
The source, however, pleaded with the police, judiciary and other relevant stakeholders to ensure a speedy process for justice to be served.
George Somuah Bosompem, a Religious and Moral Education teacher at the Asiakwa Salvation Army Basic School died at the St. Joseph's Hospital at Koforidua where he was rushed to after the attack.
He was initially admitted at the Kibi Hospital but later transferred to the St. Joseph's Hospital.
He is survived by a wife and three children.
Since the death, the Eastern Regional Police Command has said it is liaising with the local police in Asiakwa to provide security for teachers of the Salvation Army Basic School.
[ad_2]
Source link