[ad_1]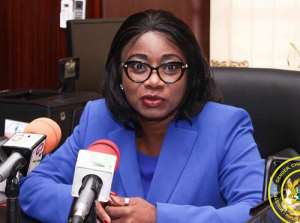 Cynthia Mamle Morrison
A total of 557 new non-governmental organizations (NGOs) have been registered from 2018 to date.
Minister of Gender, Children and Social Protection, Cynthia Morrison, made this known to the media on Wednesday, October 9, 2019.
She was presenting the Gender Ministry's programmes achievements and challenges from 2018 to date.
She noted that the existing 736 NGOs have their certificates renewed and are adhering to standards.
According to her, 64 prospective adoptive parents have been declared eligible and suitable to adopt children.
The Minister added that 63 adoption applications were processed out of which 47 were granted approval.
"Three thousand, eight hundred and fifty-seven (3,857) children in government and private residential homes provided with care, education and counselling across the country to make their life meaningful. Also, 38 Residential Homes for Children have been licensed," she said.
Social Protection
She revealed that the Ministry in its efforts to sensitise the general public on social protection issues organised 23 community dialogues at Agona West and Tano North Municipalities and Communities.
Over 10,000 people were engaged, she said, adding that, in addition, engagement sessions were held with religious and traditional leaders in 13 regions.
The Ministry, she said, in collaboration with the Ministry of Local Government and Rural Development, has developed and commenced the implementation of the Ghana Productive Safety Net project, (a successor project to the Ghana Social Opportunity Project) as a key social protection programme to provide support to the extremely poor.
"A communication strategic plan has been developed and being implemented to ensure the support and buy-in from all stakeholders including Ministries, Departments and Agencies as well as Metropolitan, Municipal, and Districts Assemblies," the Minister noted.
She added that "it is important to note that a productive and financial inclusion component of the Ghana Productive Safety Net project known as the Complimentary Livelihood Asset Support Scheme (CLASS) was developed to provide sustainable income earning opportunities for the beneficiaries of Social Protection interventions."
Additionally, she explained that in the implementation of the Single Window Case Management System / Helpline of Hope in the period under review, 635 cases were recorded out of which 532 cases were resolved.
More than 600 social welfare officers in Metropolitan, Municipal, and District Assemblies have been trained in the management of the system, she said.
LEAP
Under the Livelihood Empowerment Against Poverty (LEAP) programme, three cycles of cash grant payments to LEAP beneficiaries (58th, 59th & 60th) have been made to a total of 1,428,460 extremely poor beneficiaries, she revealed.
"The 61st cycle payment has just started. To ensure effective and efficient implementation of the programme, guidelines for LEAP Operation Funds Computation has been reviewed and is operational. An Electronic Reporting module developed and being piloted in three (3) Districts," she noted.
School Feeding
The School Feeding Programme currently provides one hot and nutritious meal for 2,663,134 pupils in 8,683 public basic schools, she said.
—-citinewsroom
[ad_2]
Source link